At Floyd A. Megee Motor Company, we're proud of our six decades worth of experience selling vehicles to drivers throughout the state. We've learned a lot about you, and our other Delaware customers during that time, and we're happy to be your best choice for stylish and rugged, Jeep brand vehicles.
Now, as we celebrate our Diamond Anniversary with Jeep brand SUVs and the Georgetown area, the big 6-0 got us thinking about all of the ways we enjoy Jeep here in great state of Delaware. We've come up with a list of some of the things we like about our SUVs, and all the ways we like to have fun in one.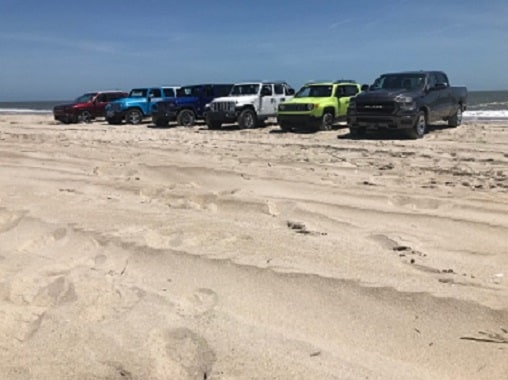 A day at the beach. We're fortunate to live in a beautiful state with endless miles of beachfront property and oceanside views. One of the perks of living near so many beaches, is the ability to drive on them. If you're looking for a useful and rugged vehicle that can handle immeasurable inches of sand, one of our Jeep models may be just the ticket. Our Jeep SUVs are designed for adventures off the beaten path, and each one also has a special trim in its lineup that's built for even more rugged off-road riding.
A walk in the park. In addition to an incredible array of gorgeous beaches, Delaware is also home to many stunning parks. Load up your roomy Jeep with camping gear and hit one of our many state park campgrounds, or make use of the signature Jeep toughness, and tow the family boat out to a state park marina. No matter where your heart and love of adventure takes you, Delaware has it, and Jeep can supply the space to do it in.
A night at the movies. Whether you're toting a Jeep full of kids to a family-friendly flick, or it's just you, your date, and your Jeep hitting up the latest summer blockbuster, a versatile Jeep brand SUV is the ideal vehicle for getting to and from the movies, or anywhere else you want to go.
That's just the beginning of all of the wonderful things you can do in your Jeep in the Georgetown, DE area. Stop by Floyd A. Megee Motor Company soon. Help us celebrate our 60th anniversary, and let us show you all that a brand-new, Jeep brand SUV can add to your life.