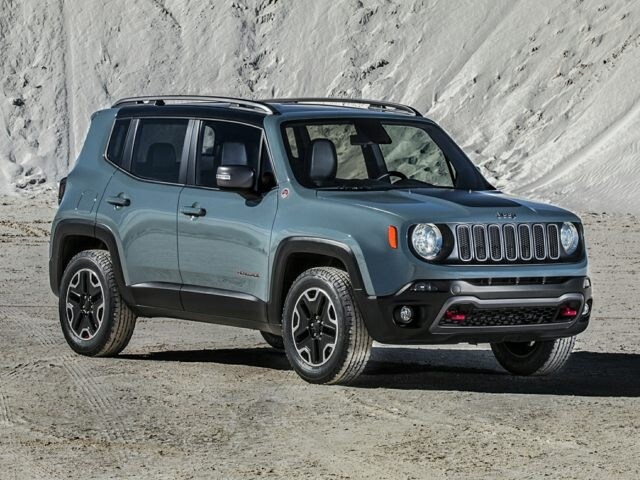 The Compact Model of the Jeep Family - the Renegade
If you haven't taken the Jeep Renegade out for a test drive yet, what are you waiting for? The Jeep Renegade, a subcompact SUV crossover with off-road adventure capabilities, is both fun and versatile, and it's stealing a lot of attention on the lots here at Floyd A. Megee Motor Company.
The Renegade, which debuted a few years ago, is the smallest Jeep brand SUV available, but it still has all the same ruggedness and utility drivers expect from a Jeep.
Jeep Renegade Features and Power
The Jeep Renegade has four doors and seats five people. Plus, it has a spacious cargo area in the trunk, which expands when the backseats are folded. The Renegade is available in four trim levels, including:
Renegade Sport, the base model with keyless entry and push-button start
Renegade Latitude, everything the Sport gets, plus much more, including satellite radio and automatic headlights
Renegade Limited, all the same features as the previous two models, plus many more, including an automatically dimming mirror and remote engine start
Renegade Trailhawk, the off-road rated model only available with four-wheel drive
All of the Renegade models are also available with removable roof panels, to give drivers the carefree, top-down feeling of the Jeep cousin, the Wrangler.
The Jeep Renegade also comes with two engine choices. The Sport and Latitude trims come standard with a turbocharged 1.4-liter four-cylinder engine that comes with only a manual transmission. The Limited and Trailhawk models come standard with a 2.4-liter four-cylinder with a nine-speed automatic transmission. For an added expense, drivers can opt for the automatic, larger engine on the Sport and Latitude trims as well.
All of the Renegade trims come in either four-wheel drive or front-wheel drive, except for the Trailhawk, which is only a four-wheel drive.
Shopping for the Jeep Renegade in Delaware
If you'd like to see how the rebellious Renegade fits into your style, stop by and visit us a Floyd A. Megee Motor Company in Georgetown. We have a selection of Renegade models available that you can try out today.